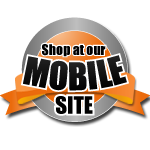 SHIPPING
Q

:

What shipping carriers do you use?
A

:

CheapFever.com ships via United States Postal Service (USPS) and United Parcel Service (UPS).
Unfortunately, customers are unable to specify the carrier of their choice.
Q: When will I receive my order?
A

: We ship within 1-3 business days of when you place your order. A small percentage of items require a longer ship-out time. On rare occasions we may face an unforeseen delay in shipping your order. We will notify you by email if we determine your order will not ship by the timeframe stated above.
Q: What are your shipping methods?
A:

Here is a list of our shipping methods:
Standard Shipping

: Our standard shipping method is ground shipping. You should receive your products within 5-10 business days from the day you order them.
Expedited Shipping

: We offer 2 Day
shipping at an extra charge for most items. Expedited shipping is not available for items being shipped to PO Boxes or APO/FPO destinations.
PO Box Shipping

: We can ship most items to a PO Box. If we determine that an item cannot be shipped to a PO Box, we will ask you to provide a physical shipping address.
APO/FPO Shipping

: We can ship most items to APO/FPO destinations. We usually deliver such items to the US military post office within 5-10 business days of the day you order.
International Shipping

:

We currently ship to 239 countries, with support for many more in the coming months. Some products may not be eligible for international shipping.
Q: What are your shipping rates?
A:

Our shipping rates are the following:
Domestic

(Continental US only):
We offer free standard shipping within the continental United States. Additonal charges apply for expedited shipping

No P.O. Boxes or APO/FPO adresses at these prices

.
International, Alaska & Hawaii
:

International, Alaska, Hawaii, P.O. Boxes, APO/FPO shipping is calculated during checkout based on a number of factors including: the desired service level (Standard/Express); the types and quantity of items you are purchasing; the total weight of the items and the destination country postal code.
Q: How do I Place an Order?
A

: Please click on the Ordering tab for instruction on placing an order
Q: What Payment Methods Do You Accept?
A

: CheapFever.com accepts the following payment methods:
Check card (also called debit cards, ATM cards or banking cards) with a Visa or MasterCard logo.
NOTE:
We
do not
accept:
Credit Cards that are issued by a foreign bank or with a foreign billing address. Money Orders, Checks, Cash on delivery (COD), or any other payment method not listed above.