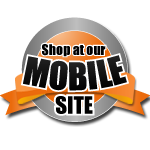 How To Place An Order
Complete the following steps to place your order:
1.
Review Your Shopping Cart
After you finish shopping, please review all the items in your shopping cart to ensure you have selected the correct item and quantity. You can access the contents of your Shopping Cart at any time by clicking the shopping cart button at the top of every page of our website
When you are ready to place your order, click the "Continue Checkout" button located in your shopping cart. You will be taken to the first page of the order form.
Returning Customers
:
Log into your account using the same email address and password used when the account was created. For password assistance, you may click Forgot your password
and we will email you a link to reset your password. If the email address used to set up your account is no longer valid, please contact Customer Care
to update your account or simply create a new account.
New Customers

: New customers will need to create an account. If you are a new customer and have trouble logging in, try logging in as a returning customer. You may be subscribed to our newsletter and already have an account set up under your email address.
4.
Enter A Billing Address (Step 1)
Please enter the full billing address. Your billing address must match the address listed with your credit card company. Be sure to leave the "My shipping address is the same as my billing address" box unchecked if you are entering a different shipping address.
5.
Enter a Shipping Address (Step 2)
Tell us where you would like to ship your order. If shipping to a military post office, please select AA, AE or AP as the shipping state.
6.
Order Review & Shipping Options (Step 3)
Review your order and change shipping options if necessary.
Expedited Shipping:

Some items may be eligible for 2 Day, or Next Day shipping. A shipping method drop down will appear if expedited shipping is available.
7.
Billing Information (Step 4)
Promotional Code Help:
If you have a Promotion code, make sure to check the appropriate box and enter the Promotion code. If your promotional code is not being recognized, please contact Customer Care
Review all the information you have entered. If everything is correct, click "Submit Order" to complete the placement of your order. DO NOT DOUBLE-CLICK OR THE SYSTEM WILL DUPLICATE YOUR ORDER. An order confirmation will appear on your screen that shows your invoice and gives you your invoice number.
We recommend printing out a copy of your order confirmation page for your records. A copy of your order will be emailed to you immediately after submitting your order.
Please Note: Your credit card will be charged immediately upon order submission. We do not accept Credit Cards that are issued by a foreign bank or with a foreign billing address.
9.

Check Your Order Status
If you would like to review an order that you've submitted, click the My Account l
ink in the top right corner of most pages on our site.
Complete the following steps to track your order:
Log into

My Account

(located at the top of the Home Page).
Click on the

Order Number

you wish to track.
Click on the

Tracking Number

for the item you wish to track.
If your order shows your item has shipped and no tracking information is available, please rest assured that your order is on its way.
11. Returns
Returned Goods. No merchandise may be returned to us without our prior authorization. Merchandise that is authorized by us to be returned must be returned within thirty (30) days of the date of receipt of order, or the merchandise will be refused and you will be responsible for all costs incurred by you, third parties and us. A refund, credit or exchange will be issued upon receipt of returned merchandise. All other merchandise must be returned to our warehouse freight prepaid and must be accompanied with your original sales order or invoice number for proper credit. All merchandise returned without our prior authorization or sent collect will be refused by us and will be returned to you at your sole expense. We reserve the right to replace returned merchandise or, if no stock is available, to credit your account. . Failure to provide adequate notice and follow these procedures constitutes an irrevocable waiver of your right to return and refund.